November 9, 2021
How Much Is A Richard Mille Watch
Richard Mille makes some of the most recognizable and expensive timepieces in the world. Seen on the wrists of billionaires, athletes, celebrities, and royalty, they are highly sought after by collectors and enthusiasts across the globe. Made in minuscule production numbers, Richard Mille watches represent the pinnacle of design and engineering. Their futuristic skeletonized aesthetic is a showcase for the highest caliber materials that make up each hand-made piece. With so few pieces available, the demand for Richard Mille watches continues to grow unabated, and their astronomical costs ensure that they are usually seen adorning the wrists of some of the wealthiest people on the planet.
The fascination about Richard Mille watches has reached a fever pitch in recent years, and the timepieces are often seen on the wrists of athletes and celebrities. If such a thing as entry-level exists in the world of Richard Mille watches, it would be about $80,000, and prices rise steadily from there to about $2,000,000. The tourbillion, the brand's most recognized piece, ranges from $500,000 to $800,000.
How can a watch command such a stratospheric price tag, especially for a brand that has only been in existence for about two decades? Let's take a closer look at the brand and the timepieces to gain a better understanding of what makes them tick.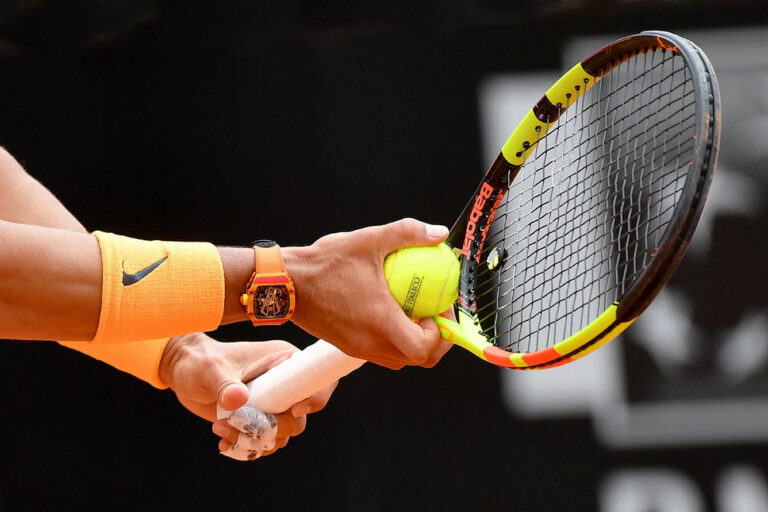 WHO IS RICHARD MILLE?
The brand Richard Mille is a luxury watch manufacturer based in Switzerland and founded by the man Richard Mille, along with Dominique Guenat in 2001. Mille, the man, began his watchmaking career in 1974 for a company called Finhor, which was purchased by Matra in 1981, leading Richard Mille to manage watchmaking for brands like Yema. When Matra was sold to Seiko in 1992, Richard Mille left to start a watchmaking business under the jewelry manufacturer Mauboussin. Upon leaving that firm in 1998, Mille and friend Guenat began to lay the groundwork for the company that would become the brand bearing his name.
Following several years of research and development, the brand's first watch, the RM 001 Tourbillon, debuted at Baselword in 2001. Subsequent years saw the firm release the RM 002 featuring a titanium baseplate which was a first in the history of watchmaking, the RM 003, which was a dual time zone tourbillon, and the RM 004 featuring a flyback chronograph.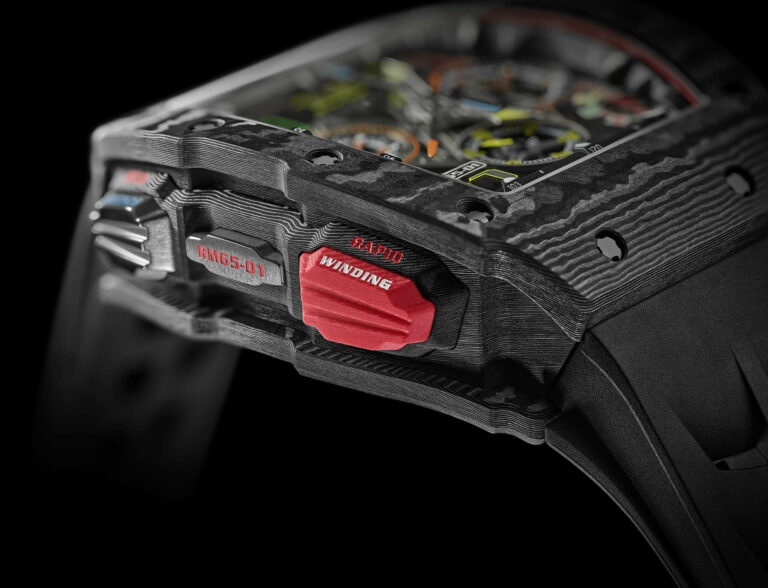 WHY ARE RICHARD MILLE WATCHES SO EXPENSIVE?
Materials
Getting back to the core question about why the prices of Richard Mille watches are so incredibly high, however, materials and technology are the main drivers. The company makes its watches from materials found in areas such as Formula 1 racing, aeronautics, and precision surgical instruments. Components such as titanium, carbon fiber, and space-age materials like Carbon TPT and graphene. The case of a Richard Mille watch may only be approximately 45mm thick, but it can house up to 1,000 components, all engineered for the precision the Swiss watch industry is renowned for.
Technology
Turning to technology, the movements that are the beating hearts of Richard Mille watches are marvels of modern engineering. The firm uses an atypical approach to movements, using a combination of Grade 5 titanium, platinum, vanadium, and aluminum. The rarity and cost of several of the component materials contribute to the high cost of the watches. The movements are also hand-polished and satin-finished, conveying an attention to detail that sets the brand apart from the industry.
Design
Design is another factor that contributes to the cost of Richard Mille's timepieces. Drawing heavily from the influence of Formula 1 racing, the watches look like something from the future, a racecar worn on the wrist.
The skeleton aspect of their design allows the wearer to see inside the pieces and view how the thousands of tiny parts work together to keep precise time. Like in auto racing, weight is the enemy, so Richard Mille watches are incredibly light due to the materials they are crafted from. They may look heavy due to the design, but like race cars, no gram of weight goes to waste.
Scarcity
Another contributor to the price of Richard Mille watches is a simple function of economics, supply vs. demand, and more specifically, scarcity. The company produces only about 5,000 watches per year, and with more people in the world each passing year with the means to afford them, it makes sense that their prices have increased steadily. For reference, large well known Swiss watch manufacturers produce watches that are orders of magnitude larger than the 5,000 produced by Richard Mille. While exact production figures are guarded like a Swiss bank account, it is estimated that Patek Philippe produces about 50,000-60,000 pieces per year while Rolex produces anywhere from 800,000 to 1,000,000 watches annually. With prices going up across the spectrum of the luxury Swiss watch industry in recent years, it seems natural that a small production brand such as Richard Mille would outpace higher production brands.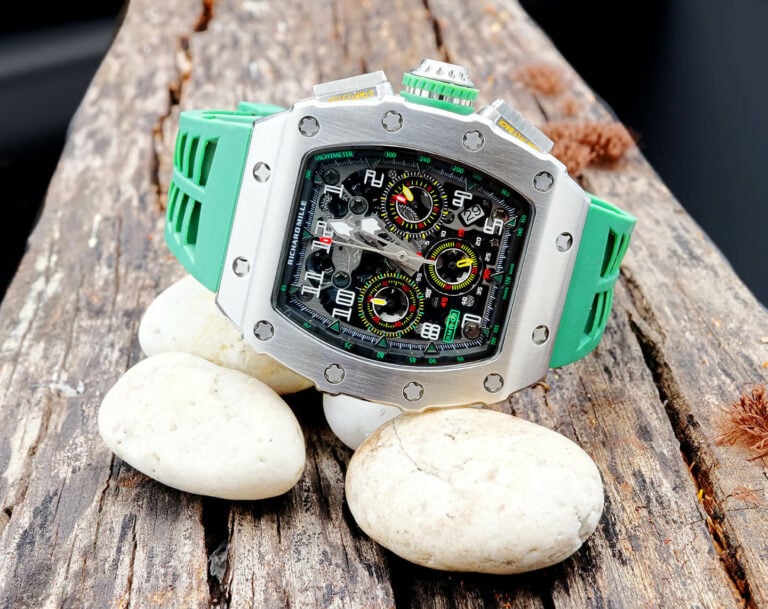 WHO OWNS RICHARD MILLE WATCHES?
Lastly, there is an image that the brand has carefully crafted by associating its pieces with celebrities and professional athletes. In the sports world, Richard Mille watches can be seen on the wrists of tennis star Raphael Nadal, Olympic champion sprinter Usain Bolt, and Formula 1 legend Michael Schumacher. Celebrities such as Sylvester Stallone, Pharrell Williams, Jackie Chan, and John Malkovich have all been spotted wearing Richard Mille pieces, adding to their allure as a status symbol.
About Precision Watches
Do you have a Richard Mille watch to sell, or perhaps are you in the market for a pre-owned Richard Mille piece? If so, then Precision Watches should be your destination. Precision Watches was founded in 1991 and are a third-generation family-owned retailer with both a physical and online store. At Precision Watches, we buy, sell and trade timepieces such as Patek Philippe, Audemars Piguet, and Richard Mille. Our selection and prices are unmatched in the world of luxury Swiss watches. Visit us either in person at the Willow Grove Park Mall in Willow Grove, PA, or online at www.precisionwatches.com to find your next luxury timepiece. 
Learn more about Precision Watches here, and please contact us with any questions you have about buying or selling a luxury timepiece.