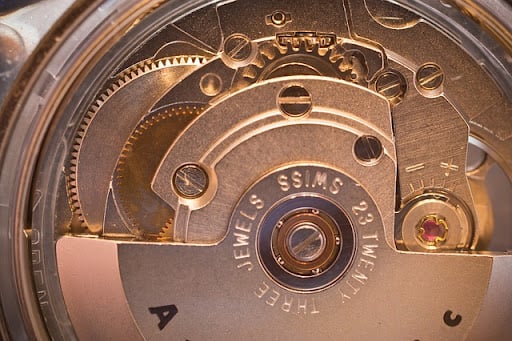 How you store your watch is as important as the watch itself for a collector. Even high-quality luxury watches can become damaged or faulty over time if not handled properly.
You need to pay attention to several factors when it comes to storage, so you don't accidentally ruin a perfectly good watch.
Listed below is our complete guide to automatic watch storage. We have covered all bases from mitigating condensation build-up to storing it in a watch winder. By the end, you'll be ready to keep your watches safe and ticking for years.
Dealing with Moisture
Condensation on or inside the watch face can seriously hamper how accurately your timepiece operates. It could cause it to break down entirely. Throwing in a couple of silica gel sachets can go a long way when storing your watches.
We would also recommend using the silica gel balls that change color based on how much moisture they have absorbed. Once they have turned a deep blue, you know it's time to replace them. The color indicates the silica gel can no longer absorb anything.
Accounting for Temperature
Storing your watches at the wrong temperature can damage them in various ways. Mitigating this outcome usually involves keeping it in a temperature-controlled environment, such as in a secure safe or deposit box.
Condensation is damaging for the IC circuits, and cold temperatures can cause the lubrication of the watch to coagulate. Simply put: it's not good. You should avoid leaving it in temperatures below -20°C/-4°F and above 60ºC/140ºF.
Storing Boxes and Paperwork
The best way to store an automatic watch is via a designated box. This box could be the one the piece originally arrived in or a new box designed explicitly for timepieces.
The primary motivator is keeping the watch protected, and only a box can sufficiently do this. Keeping it out in the open puts it at risk in various ways, including environmental factors and the risk of prying hands.
Don't try to cut corners when purchasing your watch box either, especially if you are storing a luxury timepiece. Cheaper boxes might look the part, but they are cheap for a reason. They will start to wear down much faster, and you will lose money in the long run by having to replace them every six months or so.
Even worse, the wrong kind of box could fail to maintain a consistent temperature, inviting humidity and condensation. These environmental factors could ultimately damage your watch.
As for the original purchase paperwork, it's essential to hang onto it if you decide to sell the timepiece. These records can be helpful when you need to confirm authenticity.
Cleaning Your Watch Before Storing
Cleaning is an essential step for any watch and especially before putting it into storage for an extended period. The build-up of grime or bacteria can lead to corrosion and significant damage over time, even if it only started with minimal contamination.
Issues with bacterial build-up are especially prevalent for the strap and clasp. Your wrist passes on many corrosive salts and oils via your sweat.
Cleaning is necessary for watches with metal and leather straps. While metal bands will suffer from corrosion, leather straps will dry out if stored without applying a proper oil conditioner.
Dried-out leather straps will start to crack and may tear entirely. You cannot fix cracked leather, so if you don't continuously service the stored piece, you will need to purchase an entirely new strap.
Cleaning doesn't need to be a complicated process. Warm, soapy water and a soft cloth are enough to remove excess grime. Just make sure not to submerge the timepiece unless it is waterproof, as this could damage the inner machinations.
Using Watch Winders for Storing Automatic Watches
A watch winder is a specialized storage box. Newer designs are popular for display purposes, as they encase the timepiece in glass and often come with built-in lighting.
An internal mechanism within the box mimics the movement of your wrist and keeps the date and time consistently correct. The constant winding saves you the effort of having to reset it every time you take your watch out of storage.
Watch winders can be very helpful for storage, but whether they are necessary or not is up for debate. Some collectors swear by them, whereas others consider them an unnecessary expense.
Here, we discuss the pros and cons of using a winder so that you can make your own informed decision.
Advantages of Using a Watch Winder
Watch winders are, in theory, designed to prevent the coagulation of the lubricants within the piece that can arise if it is kept still for too long.
Naturally, if you store your watch in a box year-round, it isn't going anywhere. Storage can cause the oils to sit for too long and eventually ruin the lubrication. A winder removes this risk since it continuously rotates (or winds) the timepiece.
Beyond preserving the watch's health, a winder can also keep it energized. As we said before, watch winders mimic the same motion as being worn on your wrist. This movement provides energy to your watch. Gravity provides just the right amount of tension on the mainspring within, which provides the power reserve.
No movement means no power. If you store your watch immobile within a box for a few years, it will receive no power. With a winder, you don't need to worry about resetting the timepiece as this source of power keeps it going even while in storage.
Winders are especially beneficial for watches with more complex calendars or faces that require significant time and effort to reset. It may not be so crucial for watches that display the time and nothing else.
Regardless, keeping the machinations moving is good for the overall health of the watch, especially if the timepiece is older. Modern watches tend to have lubrication that won't coagulate even if left motionless for extended periods. However, if you possess a luxury vintage watch, it's vital to invest in it and prevent coagulation.
Pros
Prevents coagulation of the oils
Provides continuous power, so you don't need to reset it when you take it out from the winder.
May improve the overall health of the watch
Disadvantages of Using a Watch Winder
Watch winders aren't necessary to keep your timepiece in optimal health. They can help, and as detailed above, there are some excellent benefits to using one, but they aren't necessary.
This is important to explain as retailers often advertise winders as a quintessential component of any collector's arsenal. The truth is, you don't need one. In fact, if preserving your watch is your goal, then using a watch winder could backfire.
If you opt for a winder that isn't up to standard, it may damage the piece. Some winders can over-do it and end up exhausting the mainspring, which means your watch will cease to move entirely.
A winder may also apply too much tension to the mainspring in some instances. It is rare, but it is possible.
Additionally, a watch winder is unnecessary, provided that you wear the piece from time to time. Even then, if the watch is a more modern release, you can store it for years. As long as you get it properly serviced, it will function just fine.
With this in mind, a watch winder could be an unnecessary expense.
Cons
Not absolutely necessary for the health of your watches; they're just a potential bonus.
They could damage your watch via overwinding.
You can achieve the benefits of a watch winder by wearing the piece occasionally.
Storing Your Watch in a Watch Box
When it comes to purchasing a watch box, there are several factors to consider.
We already mentioned that you need to consider price, as a low price isn't always a good thing. You should also pay close attention to the brand, size, and additional features.
Does it actively monitor the temperature? Is it from a reputable brand? Make sure to do your research before making a purchase.
Conclusion
Watch storage is an essential part of collecting. Our guide is just the start. Now you are more informed on the different components of effective storage, it's time to try it out for yourself! Expensive watches deserve proper care, so don't cut corners. You will come to regret it later.
To add a luxury pre-owned or vintage timepiece to your collection, check out Precision Watches.