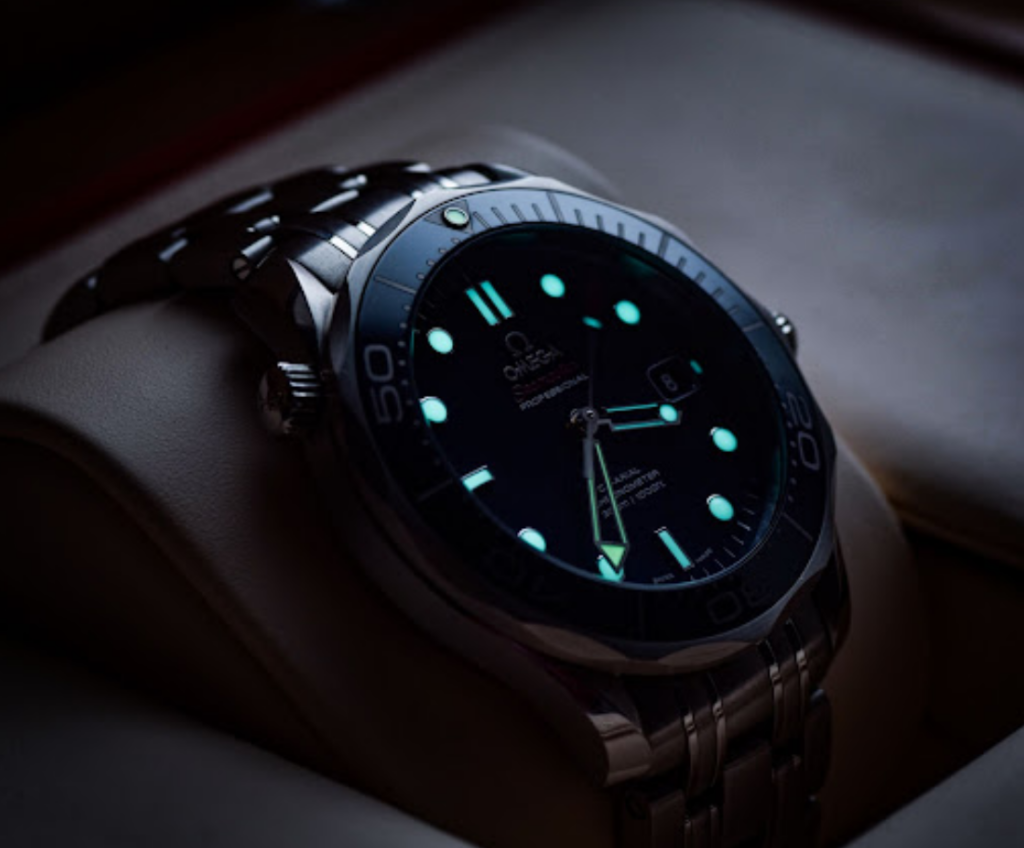 Human beings have always had a fascination for bright lights in the dark—fireflies, lightning, some jellyfish, and other deep-sea creatures. The secret to so many of these tantalizing marvels is luminescence.
Luminescence, or lume, has been used in watchmaking for over a century. Lume is helpful in wristwatch construction, not just for aesthetic reasons. It has a practical application as well. Lume can provide the wearer with a much-needed light when they try and read the time at night.
Watchmakers have used various processes to achieve lume. Some of them were toxic, and some simply impractical.
Here, we take a deep dive into the history of luminescence. Keep reading to uncover the secret behind watchmaking's most dazzling aesthetic touch.
The History of Luminescence in Watchmaking
The lume used in modern watches looks futuristic—think incandescent greens, yellows, and even pinks and purples that radiate a soft glow visible to the naked eye from far away. But the truth is that luminescent technology in watches isn't a recent phenomenon. It goes back almost as far as the history of the wristwatch itself.
Though the technology was there to make wristwatches as early as the late 19th century, wristwatches only became ubiquitous by the end of World War II. Before then, they were a highly gendered accoutrement, with women wearing wristwatches.
All that changed with World War I, when soldiers, divers, and laborers needed an easy way to tell time while doing their various duties. When the public saw how helpful the watch was, people started buying them in large quantities.
Luminescence was a natural development in this history. Street lighting wasn't as common as it is now, and it's not as if people had flashlights in their pockets as we all do now with smartphones. There needed to be a way to tell time on the go, even in dimly lit circumstances. So, people got to innovating…
Radium Paint Is Invented
The first attempt to introduce luminescence to watchmaking was radium paint.
Radium is a radioactive metal that emits a natural, luminescent glow. Pioneering chemist Marie Curie discovered it at the turn of the 19th into the 20th century, and it now takes up a spot on the periodic table of elements.
Radium breaks down into a fine powder, called radium salt. When mixed with a phosphor and a clear varnish, it acts as a binder to make paint. You can then apply the paint to anything—paper, hard surfaces, or the side of caves.
With the invention of radium in 1908, watchmakers saw an opportunity with radium and used it to paint on the hands and hour markers of watches in the early 20th century. The result was a glowing luminescence.
The problem with radium paint is the same problem with radium—it's radioactive, which means it's highly toxic for human beings. Prolonged exposure to radium can lead to cancer in the blood, the eyes, the bones, or anywhere else in the body. Even a bit of radium paint worn on a watch can impact overall health.
Radium's dangers came to light in the 1920s, when the "Radium Girls" filed a lawsuit. However, the material was still common in watch dials until 1968, when lawmakers banned it.
Promethium (pm-147) Is Briefly Used as a Substitute
Once scientists discovered how toxic radium paint is, it quickly fell out of use in the watchmaking industry. Unfortunately, the substance introduced as an alternative was also radioactive.
Promethium is significantly less radioactive than radium. It's an extremely strong and rare earth metal with a half-life of two and a half years. Compare that to radium, which on average lasts about 1,600 years.
Fortunately, watchmakers only used promethium for a short amount of time. Most of the watches made using promethium no longer exist.
Tritium (H-3) Is Introduced
You would think that by now, people had learned their lesson and stopped using radioactive materials just to make watches luminescent. But you would be wrong.
After lawmakers discontinued promethium in the 1980s, a new favorite luminescent material took over: tritium. Tritium is a radioactive isotope of Hydrogen, which means that it's a different version of one of the most common elements in the atmosphere. We drink Hydrogen every day in the form of water (H20).
But if you were to drink straight Tritium, you'd be in trouble. Tritium emits beta particles, and once it emits enough of them, it turns into helium. This process makes not only a radioactive substance but an unstable one. Though the particles are very low in energy, which means they can't easily pass through human skin, prolonged exposure can be harmful.
Despite its weak radioactivity, watchmakers used Tritium up through the 1990s. It is still in use for biochemical research, studies on animal metabolism, and military nuclear experiments.
The Invention of LumiNova
LumiNova was the first luminescent substance developed for use in watches that wasn't radioactive. The development of LumiNova was personal for its creator, Kenzo Nemoto.
Nemoto was a businessman and artist who lived in Japan in the 1940s. Like the rest of the world, he used radioactive paints like promethium and tritium to paint gauges in aircraft and the sides of Japanese fighter planes.
After the bombing of Hiroshima and Nagasaki by the U.S., Nemoto felt compelled to develop a luminescent substance that wasn't radioactive. Rather than use radioactivity to achieve luminescence, Nemoto sought to strip radioactivity out of the light beams but still retain the glow.
So he helped develop what we now call phosphorescence. Through the Nemoto & Co. company he founded in 1962, Nemoto helped spread the popularity of non-radioactive phosphorescent paints.
Like radium and tritium, the luminescence of LumiNova barely weakens over the watch's lifetime, but you don't have to suffer for it.
What Is LumiNova Made Of?
In 1993, Nemoto & Co. developed the first watch using a phosphorescent pigment. That watch was known as the LumiNova. LumiNova is now the term for the material that Nemoto used to make his watches glow.
Strontium Aluminate is the scientific name for the active ingredient that made Nemoto's paint glow. This aluminate compound is a pale yellow powder. When mixed with pigments, it attains luminescence. Different mixtures can produce different colored glows. In addition to being non-radioactive and non-toxic, it's also odorless and non-flammable.
What's the Difference Between LumiNova and Super-LumiNova?
Kenzo Nemoto invented LumiNova in Japan. But when watchmakers and aficionados talk about LumiNova watch luminescence technology today, they're talking about the Swiss variety, called Super-LumiNova.
Shortly after Nemoto put LumiNova on the market, the Swiss-based RC Tritec AG company brokered a deal with Nemoto & Co to mass-produce a LumiNova variant. Super-LumiNova came into being not long after LumiNova started being used to make watches phosphorescent.
Today, RC Tritec AG is the leading producer and distributor of phosphorescent pigments for the watch industry. Whether divers sought out lume because they wanted to wear a waterproof watch while diving deep under the sea, or racecar drivers needed phosphorescent watches to tell the time in the dark of their cars, Super-LumiNova changed everything.
How Does Super-LumiNova work?
Nowadays, lume in watches is sometimes the result of a battery-powered mechanism. Tiny LED lights switch on at the press of a button, illuminating the face and hands of the watch. But Super-LumiNova doesn't work like that.
Super-LumiNova gathers its charge from light. Watchmakers say that natural sunlight is preferred, but strong artificial light works just as well. When light hits the materials, the electrons in the Super-LumiNova get supercharged and begin to zip around. All that energy produces a luminescent glow.
The more lume paint that a watchmaker applies, the stronger that glow will be. But Super-LumiNova isn't easy to produce. That means the cost increases with more coats of Super-LumiNova. If you want a highly luminescent watch, be prepared to invest.
Chromalight vs. Super-LumiNova
The most famed luxury watch brand globally, Rolex, began using LumiNova on its watches as early as 1998. The company then switched over to Super-LumiNova at the beginning of the 21st century. Nothing but the best and most inventive ways to make your watch useful by day and night.
The company used Super-LumiNova solidly throughout the 2000s until 2008 when they debuted their own breakthrough technology. Chromalight is Rolex's proprietary answer to Super-LumiNova. Both substances can make watches glow any color, from violet to gold to blue and green.
The exact difference between Super-LumiNova and Rolex Chromalight is still a bit of a mystery to the average punter. All we know is, it works and makes your watch glow. Exactly as it says on the tin.
What may be different about the two substances is how long they last. Chromalight is said to last longer than Super-LumiNova. Then again, that may be because Super-LumiNova doesn't glow quite as brightly as Chromalight.
Frequently Asked Questions
How Long Does Lume Last on Watch?
How long your lume lasts depends on the number of coats of Rolex Chromalight or Super-LumiNova applied to the watch's face, hands, and dials. The more coats applied, the longer the lume will last after being fully charged.
Most watches painted with lume need only 30 minutes in optimal light conditions to fully charge. Once they fully charge, they can last from as little as 30 minutes to eight hours. Some watches can glow in the dark for long periods.
Does Lume on a Watch Wear Out?
Super-LumiNova and Chromalight are resilient substances. They don't burn out after a couple of years like Promethium. But nothing lasts forever.
Eventually, the lume on the watch will begin to degrade after some time. That doesn't mean that it'll stop emitting a glow altogether. That might not happen in your lifetime. With enough coats of lume applied to a watch, there will always be enough to charge sunlight and shake up electrons.
But UV exposure, moisture, weather exposure, dust, regular wear and tear all contribute to the weakening of lume. You can go to a watch repair shop and have them conduct maintenance on your lume if you want it to stay sparkling bright.
Shine Bright
For a long time, lume was only accessible for watch buyers with money to spend. Nowadays, you can find lume in watches at all price points.
The benefits of lume are manifold. You can tell the time in the dark, use the lume as a portable mini flashlight, and add an element of beauty to the watch. It's a glow you can't recreate with anything else.
The story behind lume is just as fascinating as it is to behold, shining in the dark.
Looking for a wristwatch that glows, no matter the time of day or night? Shop our selection of pre-owned and vintage luxury watches for a timepiece that will shine bright.