Interested in trading or selling your Breitling watch?
At Precision Watches & Jewelry, we make getting a return on investment a quick, simple and rewarding process. Whether you want to upgrade to a new make or model, or just receive a fair payment, we offer the best prices for Breitling watches.
Our staff is made up of industry experts and some of the most beautiful craftsmen in the area. This means we are qualified to appraise used watches manufactured by the world's leading brands.
If you are ready to trade or sell your Breitling watch, let Precision Watches & Jewelry offer you the highest value. Complete a contact form today for a free quote.
About Breitling Watches
Breitling has played a crucial role in the finest moments of aviation history because of the durability and superior performance of its timepieces. It is also the only high-end watch company to manufacture each of its models with chronometer-certified movement—the most significant indicator of precision.
Also, Breitling is one of a handful of luxury watch brands to produce a mechanical chronograph movement, exclusively designed and manufactured in its workshops. And as a family business, it's one of the last independent Swiss watch brands in the world.
In 1884, Leon Breitling founded the company with a focus on a unique and highly demanded field: chronographs and timers. He manufactured precision instruments built for sports, science, and industry.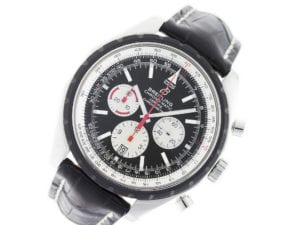 By selling high-quality products with an emphasis on innovation and design, Breitling watches are sewn into the fabric of American history—from the rise of competitive sports to the automobile to the unprecedented achievements of aviation pioneers.
In 1915, Breitling watches invented the first independent chronograph pushpiece. In 1923, the system was perfected by preventing the stop/start functions from resetting. And in 1969, the brand developed the first automatic chronograph movement, which is recognized as one of the most significant twentieth-century achievements.
Breitling continued its streak of innovation by inventing the famous Chronomat in 1984—its most popular model. In 2009, the brand made history once again by creating Caliber 01, the first self-winding chronograph movement.
By designing a full line of innovative instruments exclusively for aviation, Breitling is also seen as a leader in Quartz watchmaking. Though it initially developed watches for demanding professionals, the brand now boasts a luxury line of timepieces named Breitling for Bentley.
Precision Watches & Jewelry makes trading or selling Breitling watches easier than ever. Don't wait any longer to get the highest value for yours. Submit your information today for a free quote.
WANT TO SELL OR TRADE-IN YOUR BREITLING WATCH?
Find us in the Willow Grove Mall near Bloomingdale's or contact us today.
2500 W Moreland Rd #1101
Willow Grove, PA 19090
(215) 343-4433