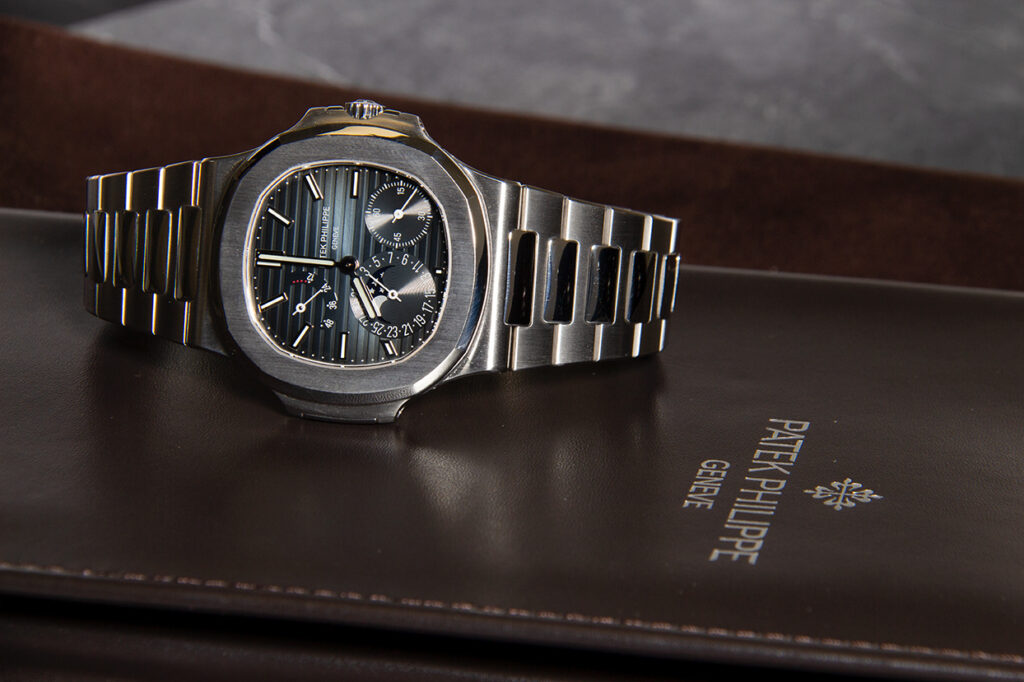 When purchasing a luxury watch, you need to make sure you're investing in the right one. With so many attractive options for you to choose from, finding the best choice worth your investment is not as straightforward as you might assume. Don't worry—we're here to help.
In this guide, we'll be comparing two of the best luxury brand: Patek Philippe vs. A. Lange Sohne. Both watchmakers have firmly established themselves in the industry with a consistently popular audience, but who has the edge?
Keep on reading to find out. We'll compare everything from design choices to their most famous releases. Let's get into it.
Patek Phillippe
A luxury wristwatch brand hailing from Switzerland, Patek Philippe has been contributing to the market since 1839, and their legacy speaks for itself.
Innovation
When it comes to innovation, Patek Philippe has always led the way. Their commitment to continuous progress has led to some of the most exciting releases on the market. Known for complex mechanisms and unique movements, Patek Philippe outshines many competitors by masterfully pairing functionality with aesthetic appeal.
Innovation distinguishes timepieces such as the Grandmaster Chime, the most expensive watch released to date. Granted, this is an outlier, as only a limited number of models were ever released, but it does provide a perfect example of how experimentative (and successful!) Patek Philippe can be.
The Grandmaster Chime featured a total of twenty different complications, two independent dials, and a reversible case. It took roughly one-hundred-thousand hours to fully complete, which gives you some insight into the commitment this brand has for revolutionizing watch building.
Design
Every part of a Patek Philippe watch is hand-crafted, resulting in an exceptional finish for every piece. The hand movements are fluid and graceful, and the design is sleek. Patek Philippe has boasted similarly elegant designs for almost two centuries while maintaining popularity. This incredible history of prestige speaks to its timeless appeal, which is part of its meticulous crafting process.
Pieces are often forged from solid gold or platinum to form the outer casing, with each handcrafted part built into or around this wider piece. It provides a finish that is both functional and visually appealing.
The quality speaks for itself. The Patek Philippe technique of case-making has been in use since the 1800s and remains a preserved secret among esteemed watchmakers. This secrecy contributes to the success and significant appeal of a Patek Philippe watch.
Notable Models
The Aquanaut Travel Time 5164A-001
The Aquanaut is the ultimate travel companion, encased in steel and satin-brushed for a gleaming finish. It has a signature octagonal design and a black dial, exuding refined class. It is also water-resistant for up to 120 meters, so it isn't just a showpiece—it's the real deal.
The 1518
One of the most sought-after Patek Philippe timepieces that has ever existed, this addition retailed for $1500 back in 1941. When adjusted for inflation, that is a significant figure. An investment in this vintage timepiece today will likely set you back even more given its exclusive status.
The pale gold face and perpetual calendar design set the standard. We mean this literally, as it was the first watch face to possess a perpetual calendar and remained the only one for almost forty years.
The Nautilus 5711/1A Blue Dial
There are few as renowned or as popular as the Nautilus Blue Dial when it comes to steel sports watches. The unique color of its clockface has remained in demand ever since its initial release in 1976. In fact, to this day, some retailers estimate waiting lists of almost ten years for the Nautilus 5711/1A.
A. Lange & Sohne
This German manufacturer of luxury watches was first founded in 1845. However, following nationalization in 1948, it wasn't until 1990 that the brand would become what we know it as today.
Innovation
We gave Patek Philippe a lot of credit for innovation, and it's definitely due, but A. Lange & Sohne aren't dragging their heels either. They have gone the extra mile with plenty of their releases, most notably, the Grand Complication released in 2013.
This timepiece featured a triple-gear train watch with a perpetual calendar and two sonneries, one grand and one petite. It also features a rattaprante chronograph that shows flying seconds.
Additionally, A. Lange & Sohne emphasize precision with their watches, confirmed by the leading authority on watch accuracy, the Swiss COSC (Contrôle Officiel Suisse des Chronomètres). Achieving this certification requires the device to demonstrate an accuracy of -4/+6 seconds per day.
Many of the A. Lange & Sohne surpass this criterion, with the Lange 1 going as far as achieving a phenomenal accuracy of +2/-1, double that of the COSC standard. It's the mark of German precision engineering.
Design
Complex machinery and beautiful engravings distinguish A. Lange & Sohne watches. They are stunning devices, all of the engravings handcrafted. It results in a delicate and graceful appearance that competing brands simply cannot replicate.
Indeed, attention to detail is the phrase that springs to mind when looking at the watches crafted by A. Lange & Sohne. There is a fluidity to them that helps to minimize the industrial feeling often derived from machine-heavy watches.
Some of the selection is divisive, however, mostly due to the size of the watches. Larger watches aren't for everyone, and much of A. Lange & Sohne's collection makes a distinct statement.
You'll see this equally reflected in the movements of the clock arms, which are bolder and more noticeable. Ultimately, these attributes could all be a plus or a minus, depending on your preference.
Notable Models
Tourbillon Pour le Mérite
No stranger to establishing firsts with their devices, the Tourbillon Pour le Mérite unveiled an entirely new way to utilize a technical feature in a wristwatch with its train drive fusée-and-chain transmission. The watchmaker only produced these watches between 1994 and 1998, so a limited supply is available globally.
Lange 1A
The 1A set the standard at A. Lange & Sohne throughout the nineteenth century, distinct for using only the finest materials, finished to the best possible standard.
The Lange 1A draws on this esteemed heritage. Released in 1998, its solid gold level and guilloched dial gave it a standout appearance worthy of such an impressive legacy.
Lange 1 Tourbillon
First introduced in 2000 at the turn of the millennium, the Lange 1 Tourbillon was a milestone all its own. It was the very first wristwatch to utilize a gravity-compensating tourbillon in addition to unique features such as a twin mainspring barrel and three days power reserve.
Comparison
The main difference between Patek Philippe and A. Lange Sohne is the design. Patek Philippe opts for a thinner, sleeker profile, whereas the A. Lange Sohne range has a bold appeal. Additionally, as the younger brand, A. Lange Sohne leans more toward modern trends than the ever-classic Patek Philippe.
However, despite these differences, there are some distinct similarities between their devices. We have pointed out some of these similarities below.
Complex Machinery
As demonstrated by numerous of their releases, both Patek Philippe and A. Lange & Sohne never shy away from a more complicated device. Whether it's the actual machinery inside, the aesthetic, or both, these watchmakers put extensive thought into the design and delivery.
Hyper-Precision
Both brands feature watches that generally achieve a precision of -3/+3 seconds per day, if not lower. Patek Philippe even goes so far as to have their very own precision certification outside of the Swiss COSC.
Strong Aesthetic Appeal
Last but not least, both brands put a lot of emphasis on visuals, and it pays off. Whether you prefer the sleek stylings of the Patek Philippe or the bolder choices found within A. Lange & Sohne's range, there is no denying their design appeal.
Conclusion
Both watchmakers are excellent forerunners in their field. Patek Philippe has an esteemed history backing them, but A. Lange & Sohne are a refreshing new take on a brand that has already cemented itself as wristwatch royalty. Ultimately, the choice is yours, and you cannot go wrong with either.
At Precision Watches, you can get your hands on a pre-owned Patek Philippe or A. Lange & Sohne for a fraction of the cost. We invite you to browse our online store and explore the wide array of luxury and vintage watches.