April 4, 2018
The History Of Montblanc Pens
Posted on

April 4, 2018

at 11:14 am
History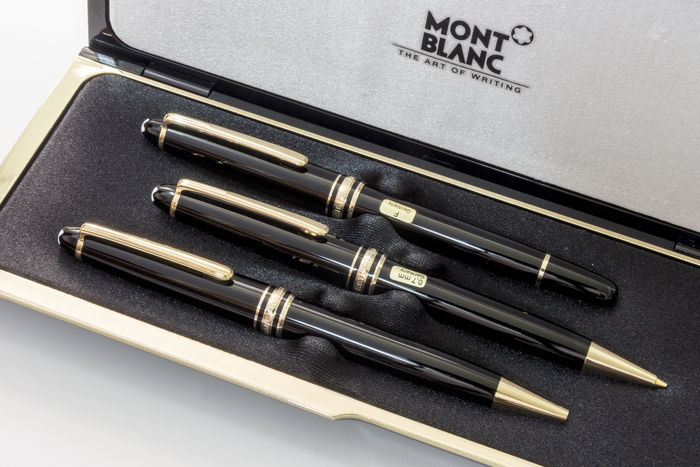 In a digitalized world, what could possibly encourage consumers to purchase high-end pens? After all, everything we need to write today can be done on our laptops, smartphones or tablets, right? For example, we send emails and texts instead of writing longhand letters. And professionals input all their data by simply typing on their keyboards and storing it in the cloud.
So what gives? Why are people still buying Montblanc pens in a world in which longhand writing is no longer necessary?
For starters, these fountain pens have been the icon of the art of writing since 1906. When Alfred Nehemias, a Hamburg banker, and August Eberstein, a Berlin engineer, invented what Montblanc refers to as "writing instruments." There's no way these two men could have ever predicted the challenges which the brand would face shortly after the first computer arrived.
Montblanc, a brand synonymous with exquisite writing culture, certainly had its obstacles to overcome leading up the twenty-first century. However, there's a unique quality of these pens that transcends time. Even if we do spend most of our time typing or texting whatever it is we need to say. Let's dive deeper into the history of Montblanc pens and discover why a professional may still prefer a luxury pen in their coat pocket despite a mobile device at their hip.
An Early Symbol of Innovation and Craftmanship
When it was invented in 1906, the Montblanc pen served as a technical tool for professionals—an item which they needed every day to do their jobs and effectively communicate with each other. This instrument made it possible for them to keep thorough records and ensure business matters were seen to.
Though this tool was a necessity to entrepreneurs eager to scale their operations in the early twentieth century, it continues to represent the ingenuity required of such individuals. And since leaders today recognize how these tools were essential in helping early entrepreneurs achieve great triumphs, they too see the value in buying luxury pens.
From signing documents to simply jotting notes, professionals worldwide forever respect the business deals forged and inventions birthed by the ink of these pens. It just might be that professionals today hope these pens can serve as a vehicle for their imaginations, channeling and transforming their thoughts into tangible creations which could bring about as great of success as the pioneers before them.
Want to shop for Montblanc pens?
Visit Precision Watches & Jewelry, an authorized dealer
at the Willow Grove Park Mall in PA.
A New Frontier in the 1980s
The rise of computer technology in the 1980s was quite frightening for Montblanc for two main reasons. First, it threatened the need for writing instruments as communication moved away from handwritten documents to computerized systems. Second, distribution changed as well. Stationary stores and mom-and-pop stores began to fade as superstores like Office Depot and Office Max began to crop up, selling items relating mostly to computers
So, with both the consumer and distribution changing alongside technology, Montblanc needed to figure out what direction it wanted its brand to go in the future. Even so, it knew that writing was part of the essence of who we are as human beings, dating back to the early days of humankind.
As such, the brand had reached a moment of clarity despite the chaotic shift in the consumer market: the craftsmanship and symbolic value of Montblanc pens would endure the digital age. Because, though they may appear as accessories, these tools will always represent innovation—something professionals will continue to sport.
Looking to buy a Montblanc pen?
Visit Precision Watches & Jewelry, an authorized dealer
at the Willow Grove Park Mall in PA
A Sign of Intelligence, Education and Social Responsibility
Today, a professional with a Montblanc pen in his coat pocket may not use it as often as those before him, but the legacy still lives on. The ingenuity used to design these enduring instruments can be reflective of one's ambitious endeavors.
Having represented intelligence, education and social responsibility for more than a century, Montblanc pens were clearly designed to stand the test of time. Even as the world becomes increasingly digitized, these pens will continue to inspire and give way to innovation while in the hand of the beholder. Just a twist of the cap and a young professional can tap into a century of success!
Searching for Montblanc pens for sale? Precision Watches & Jewelry, an authorized dealer at the Willow Grove Park Mall in PA, specializes in high-end pens for professionals. Stop by our location, explore our site or contact us today for more details!