February 8, 2018
The History Of Tag Heuer's Carrera Model
Posted on

February 8, 2018

at 2:13 pm
History
Back in 1963, Jack Heuer created the Carrera Tag Heuer watch as a tribute to the famous Carrera Panamericana auto race. The Carrera Panamericana auto race is considered by world-class auto racers to be the world's most dangerous. The watch was developed to reflect the image of auto racers, who love speed racing. Taking risks, an aversion to slow motion and using time as part of their racing skills.
Tag Heuer is a Swiss watch manufacturing company founded in 1860 in La Chaux-de-Fronds, Switzerland. Switzerland has the distinction and reputation for the most elegant timepieces. A world-renowned benchmark for precision, reliability and excellent quality.
The Carrera Watch – A Timepiece First
Jack Heuer created the first chronographic timepiece used by professional auto race drivers. These drivers rely on this watch to synchronize racing speed with impeccable, precision timing.
The design of this timepiece offers a large face opening for easy readability, luminescent markers and hands for convenient visibility in any light. Also, a security system built into the clasp.
Additional Features of the Carrera Watch
To add to the design of the Carrera watch, there are other signature features. These include:
Caliber 5 automatic movement
Silver-tone opalin dial, three hands, applied indices, date window and logo
Round 3mm case
Polished stainless steel bracelet
The Carrera watch is also water resistant to 100 meters.
It's easy to see why these features make it the choice of discerning buyers. When buyers seek the very best in a timepiece, they know their purchase of a watch is an investment in the future. This watch has excellent quality from the day of its creation and for years to come.
Carrera Watches- An Enviable Choice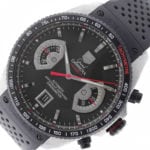 There is more than an investment involved in the purchase of a Carrera watch. The wearer identifies their fashion sense and demand for quality and precision watches that fit their lifestyle.
Today's hectic, busy world requires precision watches to keep pace with the hi-tech, speedy business environment. A Carrera watch is an excellent choice that signifies personal fashion style. The importance of timeliness and estimable buying value. To make a style statement, visit the Willow Grove Mall to shop for the only watch a savvy buyer deserves.
There are several styles of Carrera watches to choose from. Precision Watches and their watch experts, will be happy to assist buyers seeking a classy watch to match their style sense and precision timepiece needs.
Quality and Excellence are a Priority
If quality and excellence matters most in your timepiece wardrobe, stop in today to enjoy the essence of quality and excellence in Carrera watches. You'll be surprised at the variety of watches available. The only difficulty you may encounter is making a final decision on which of the watch styles you want most.
The Willow Grove Mall is located at 500 West Moreland Road, Willow Grove, PA 19090. For more details on Precision Watches, call (215) 343-4433 or visit Precision Watches today.