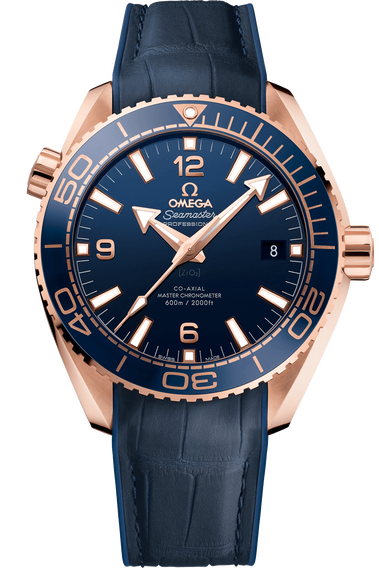 Many watchmakers adapt standard metal formulas to create distinct and secret alloys. Some of this is an attempt to define uniqueness and reinforce brand identity, but equally, this is a deliberate move to improve the timepieces' longevity and quality.
Omega's Sedna Gold is an excellent example of this, a unique variation of the attractive rose gold that you won't find anywhere else.
Here, we illuminate this stunning alloy's intriguing history and how Omega uses it to augment and set apart their luxury watch collection.
What Is Omega Sedna Gold?
Omega used the name Sedna, which is the reddest and most distant planetoid in the entire solar system. However, Sedna is also an Inuit name for a mythological goddess of the sea known as the 'mother of the sea.' What better to partner Omega's Speedmaster with all its space associations and the iconic Seamaster collection.
Omega first introduced the alloy in 2013. This alloy is Omega's unique brand of regular 18k  rose gold but uses a different chemical formula to the standard version.
Omega designed their proprietary variation to remedy the problem with regular rose gold, which loses its reddish tint over time. Their proprietary blend still maintains the attractive hue of blush rose but with noticeable improvements.
Another imperative for the watchmaker was the integrity of the metal. The special formula offers superior longevity, standing the test of time and resisting marks and scratches.
Omega Sedna Gold is available across the entire Omega collection, including the Speedmaster and the Seamaster.
Since 2013, Omega has developed other alloys, including a white blend called Canopus and an 18k yellow metal called Moonshine.
What Is the Chemical Composition of Sedna Gold?
The traditional rose gold mix consists of yellow gold, silver, and copper. Omega substitutes silver with the precious metal palladium.
The palladium in the alloy resists fading and discoloration, which can occur with regular rose gold. The copper atoms that produce the unique red shade can dissipate from the alloy, but palladium prevents this.
Omega hired a team of expert metallurgists to create this patent-protected alloy. Financed by the deep pockets of the Swatch Group, they used only the best scientists to create this new alloy reputed to have a sheen that will last forever.
What Is Palladium?
Palladium is white metal with a silvery, lustrous tinge, similar to platinum. Its color makes it easy to see why Omega thought this a good substitute for silver.
An English chemist, William Hyde Wollaston, first discovered Palladium (Pd) in 1803. He named the material after the asteroid, Pallas.
Palladium forms part of the platinum group of metals, which includes rhodium, iridium, and, of course, platinum itself. Palladium is created by purifying platinum, a process Wollaston kept secret until his death.
Jewelers have been using palladium since the 1930s because of its attractive color and durability. Palladium is also common in white and rose gold alloys. It is rarer than platinum and carries a unique cachet because of this.
Is Sedna Gold Rose Gold?
The chemical composition in Omega's proprietary formula complies with the global requirement for 18k rose gold to have a minimum gold content of 75%. Jewelers and watchmakers prefer 18k for quality pieces.
The substitution of palladium for silver does not impact the blend's overall legality, which must also include copper and a third element.
The beautiful color comes from the copper elements, but the addition of the palladium ensures that the alloy will retain this luster.
Is Sedna Gold Scratch-Resistant?
The specialty alloy is three times stronger than the regular 18k equivalent and will resist scuffs, chips, and dents.
The palladium content is harder than platinum, so it is more resistant to scratches. It is also tarnish-resistant and hypoallergenic but remains lightweight.
Conclusion
This eye-catching and fiery Sedna rose gold marks out Omega timepieces and comes with the reassurance that the color will not fade. There are alternatives on the market as other watchmakers produce their own versions, but Omega is unique.
For a timepiece of your own featuring this alluring alloy, shop Precision Watches. Our collection of vintage and pre-owned Omega watches is sure to suit your highest expectations.