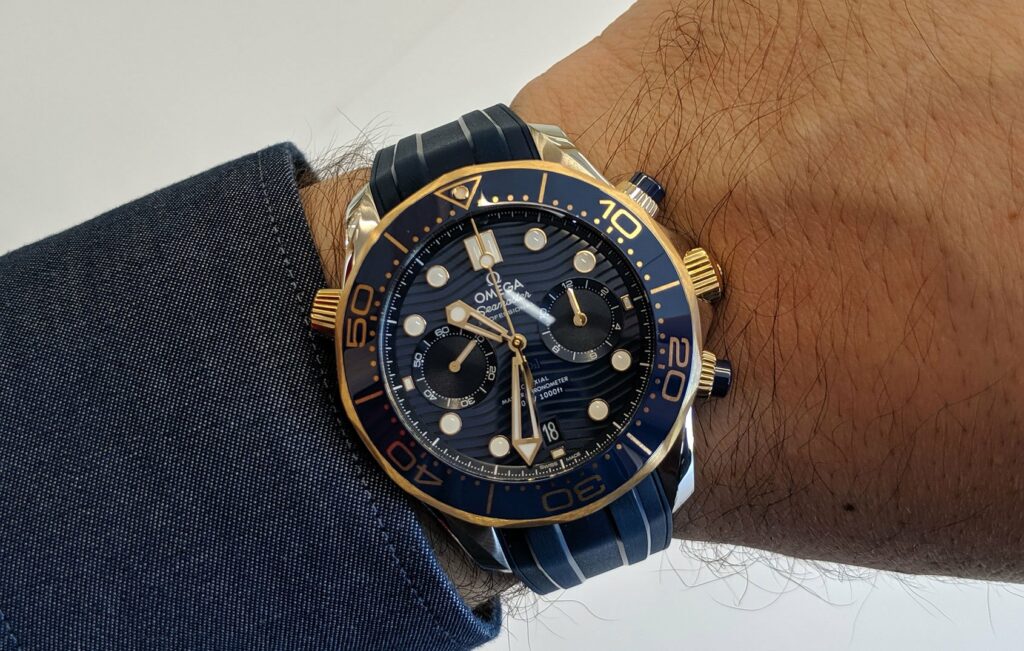 The Omega Seamaster is considered one of the best timepieces for diving and aquatic sports. It's also an extremely popular watch worn by many celebrities, business executives, and world leaders. That said, there are numerous models of the Seamaster, each with its own unique appeal. 
In this post, we'll discuss various types of Omega Seamaster watches. By the time you finish reading, you'll know everything about each watch type and how they function. 
Let's start by breaking down all the different Omega Seamaster watches out there. 
How Many Different Omega Seamaster Models Are There?
Omega offers four different collections of watches: Constellation, De Ville, Speedmaster, and Seamaster. The Seamaster is by far the most popular collection and comes in a vast array of styles. Since 1948, there have been eight main sub-collections of Seamaster watches:
Seamaster 1948

. A tribute design to memorialize the 70th anniversary of the collection. 

Seamaster Bullhead

. The Bullhead is more of a novelty model based on an older 1968 Omega design.

It's

still stylish and considered a

top pick

in the watch community. 

Seamaster 300

. This watch is designed specifically for spec-diving.

It's

also the watch worn by James Bond in the movie GoldenEye, and the franchise is still partnered with Omega to this day. 

Seamaster Railmaster

. A unique model designed for people located near strong magnetic fields,

i.e.

, railroads and science labs. 

Seamaster Aqua Terra 150M

. The Aqua Terra line is more suitable for

casual

wear but still has water-resistant properties. 

Seamaster Diver 300M

. Another spec watch suitable for diving or aquatic sports.  

Seamaster Planet Ocean 600M. Hence,

the name, this watch is designed for

deep-sea

exploration.

Its

main feature is having a 600m water resistance rating. 

Seamaster Ploprof 1200M.

This Omega watch is the most cutting-edge in terms of water resistance.

It's

designed for professional diving to depths up to 1200m. 
As a result, it remains the most diverse collection offered by Omega. All the watches in this collection are well-known for their water-resistant abilities and crisp designs. Furthermore, James Bond has become the unofficial Omega brand ambassador, having worn Seamaster watches since 1995. 
How Can I Tell the Automatic or Quartz Seamaster Models Apart?
Being one of the most diverse watch collections on the market, Omega Seamasters use manual winding, automatic winding, quartz, and chronometer components in their timepieces. It can be tough to tell the difference at first glance, but there are some key identifiers to help you know which watch you're dealing with.
For instance, quartz watches have three lines of text engraved on the bottom part of the dial. Within the text, there will also be the word "professional." This text is a dead giveaway that you're looking at a quartz Seamaster. For the automatic watches, you'll find four lines of text featuring the word "automatic." 
The date window also has a different position on each watch. The automatic model's date window will perfectly align with the minute markers. Quartz watches will have the date window close to the watch's center, not lining up with the minute lines. 
That said, both quartz and automatic Omega watches contain high-quality components. Many people consider upgrading their watch, but it's not usually worth it since they sport a similar style. 
Should I Choose the Automatic or Quartz Omega Seamaster?  
Omega produces some of the most in-demand watches on the market. So, investing in one could be an excellent decision if you're looking for your next premium watch for your collection. However, do you go with an automatic or quartz movement? 
Here are the benefits of both to help you make the right choice:
Benefits of Automatic Movement
Perhaps the most apparent benefit of choosing a watch with automatic movement is that everything is done for you. These watches use a system of gears and springs powered by kinetic energy to keep the watch charged as you wear it. The rotor turns and winds the mainspring as you move your wrist to keep your watch moving. 
Benefits of Quartz Movement
The first quartz watches hit the market during the late 1960s. Upon their release, watchmakers were under pressure to keep up with these precise battery-powered mechanisms. The system consists of a battery and quartz crystal that is used to power movement. The battery sends electricity to the crystal, which vibrates and powers the rest of the watch.  
Having more accurate movement is the primary benefit of choosing a watch with a quartz movement. 
Do Omega Seamasters Retain Their Value?
Not only are Omega Seamasters extremely stylish and functional, but they're also one of the hottest collections of watches out there. As a result, Seamasters have an excellent resale value compared to other luxury watches. 
Most Seamasters will drop around 20% in value in the first year. However, the value of your watch will depend on the model, rarity, and its current condition. Limited edition Seamasters will have a higher resale value than standard sub-collections. 
Conclusion
Omega watches are some of the best available, and the collection of Seamasters is no exception. One reason they are popular is their variety. You can find a vast array of different styles and movements suitable for your needs. Overall, they are a well-rounded collection of watches for all types of owners. 
If you want some real expert knowledge on Omega watches or are just curious how much yours might be worth, get in contact with Precision Watches.