September 6, 2022
How to Spot a Fake
Patek Philippe

Watch
When it comes to fine luxury watches, it doesn't get much better than a Patek Philippe. Renowned for fantastic designs, impeccable movements, and sublime finishes, Patek Philippe is regarded by many as the pinnacle of high-end Swiss watchmaking. Unfortunately, that kind of reputation can also garner the wrong kind of attention, specifically from counterfeiters.
Certain Patek Philippe models, such as the Nautilus, Aquanaut, and Complications, are so popular that counterfeiters continuously make replicas of them in search of a quick (and illegal) buck. So, how do you protect yourself from inadvertently buying a fake Patek Philippe watch? Unfortunately, replicas are getting better and better, and it's becoming more challenging to spot the difference between a real and fake watch, including ultra-exclusive brands like Patek Philippe. But we're here to help. Here are five ways how to spot a fake Patek Philippe Watch.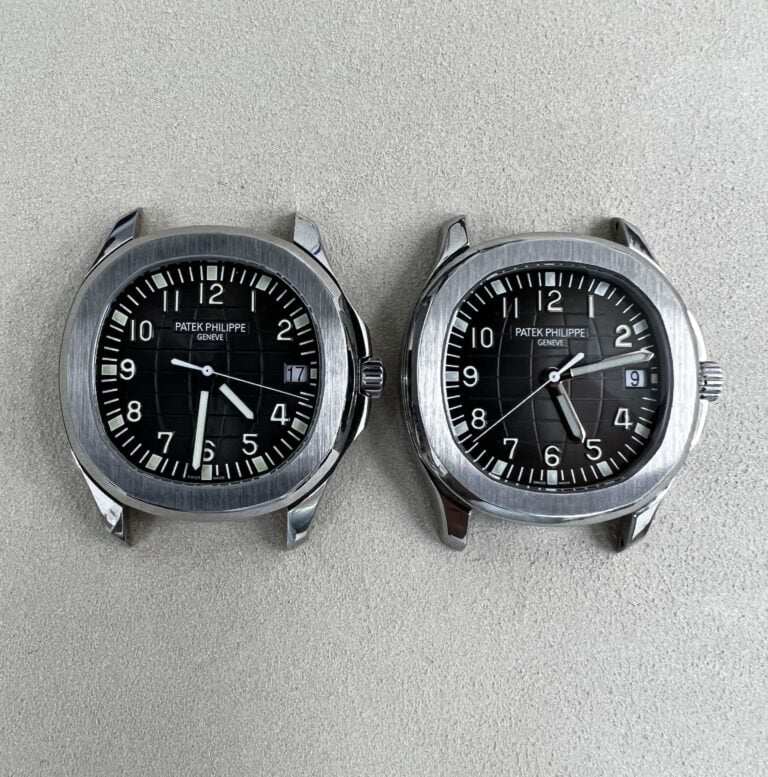 Study The Specific Patek Philippe Reference Before Buying
If you're ready to spend the significant amount of money required to own a Patek Philippe watch, then it's a good idea to do your research first. Find out the reference numbers of the Patek watches you're thinking of buying and look up as much information as possible about them. Understand the style, size, materials, dial colors, strap and bracelet types, and movements of the watch in question.
For example, some references are not available in stainless steel, some only come with straps and not bracelets, some only offer one or two dial color options, and some run on hand-wound movements rather than automatic ones. You should be aware of this information before you pull the trigger. The more you understand the watches, the higher the likelihood that you'll spot any red flags of a fake Patek Philippe watch.
A quick tip: if you look at the reference number of a Patek watch, the letters will tell you what material the case should be made of.
A = Stainless Steel
J = Yellow Gold
G = White Gold
R = Rose Gold
P = Platinum
AJ = Steel/Yellow Gold
AR = Steel/Rose Gold
Also be aware that the more popular the Patek model, the more fakes there are out there. Hype watches like the Nautilus and Aquanaut are regularly counterfeited thanks to their immense popularity.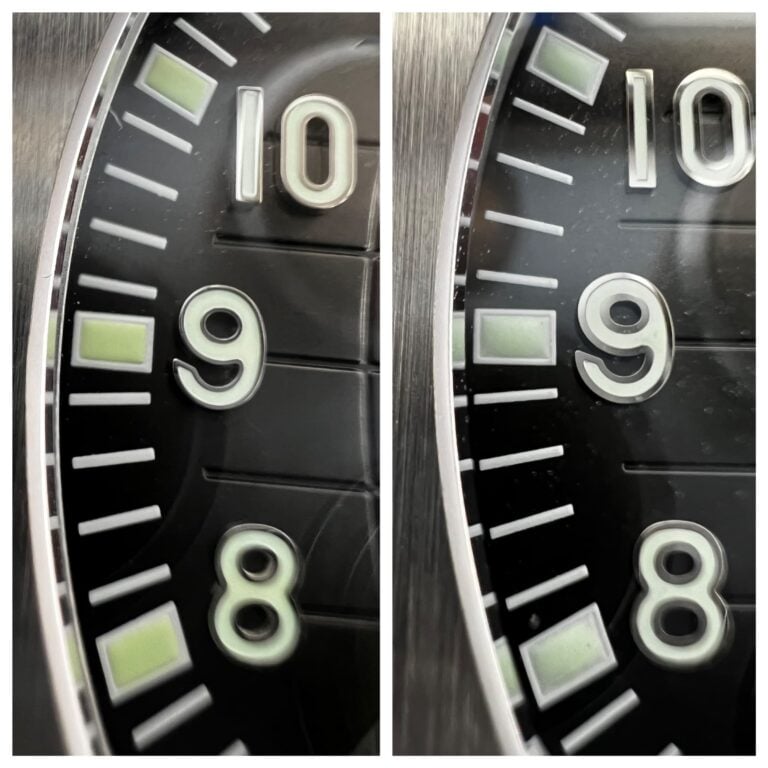 Grab A Loupe And Inspect the Dial
Patek Philippe has built its pristine reputation on impeccable quality and finishing. Its watches are meticulously crafted and subjected to a battery of quality control checks. Therefore, there should be no question about the quality of a Patek timepiece.
One way to spot a fake Patek Philippe watch is to grab a loupe and inspect the dial. The details on a Patek Philippe dial, whether the hands, indexes, lume application, printing, or decoration, should be flawless.
• Are the edges of the hands perfectly straight and finished without any blemishes?
• Is the lume paint applied seamlessly without any imperfections?
• Are the placements of the hour markers straight, proportional, and with the right spacing? (If there are double batons at 12, there should be an obvious space between them.)
• Is the text on the dial flawlessly straight, sharp, and without any crookedness or bleeding?
• Is all the dial decoration (if there is any) immaculately finished without any flaws?
If you answered "no" to any of the questions above, that's a red flag and you may be looking at a counterfeit Patek.
Another important detail to know is that only skeletonized Patek Philippe watches will display a tourbillon or balance wheel on the dial. Patek does not make closed dials with cutouts to display a tourbillon mechanism.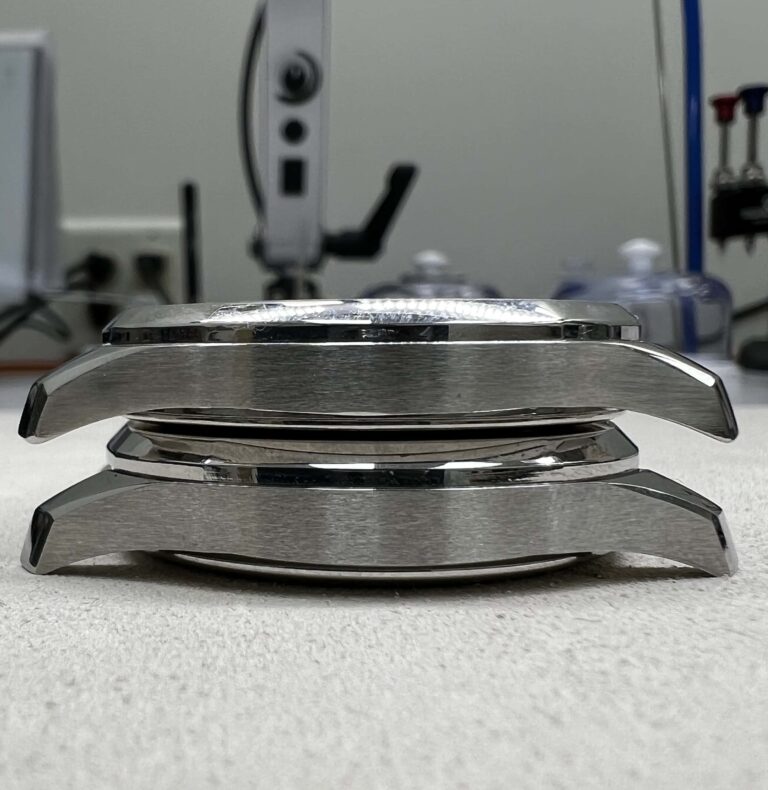 Look At The Case Shape, Proportions, and Finishing
The level of quality of the case construction is also something you should study when trying to spot a fake Patek Philippe watch. Counterfeit Patek watches will generally have thicker cases than the authentic versions to accommodate the fake movement inside.
Check the proportions of the lugs and edges of the case, in addition to the quality of the brushed or polished surfaces – again if anything seems off or not finished to the highest degree, then it's most likely a fake.
The case should also have hallmarks to indicate metal purity, standards of quality, and the source of the manufacturer. For instance, "750" is the metal purity hallmark for 18k gold and "950" for 95% pure platinum.
Serial and reference numbers of a Patek Philippe are located on the inside of the case back on watches with solid case backs. On the other hand, Patek watches with exhibition backs will have serial and reference numbers around the interior edges. A reference number is also known as a model number.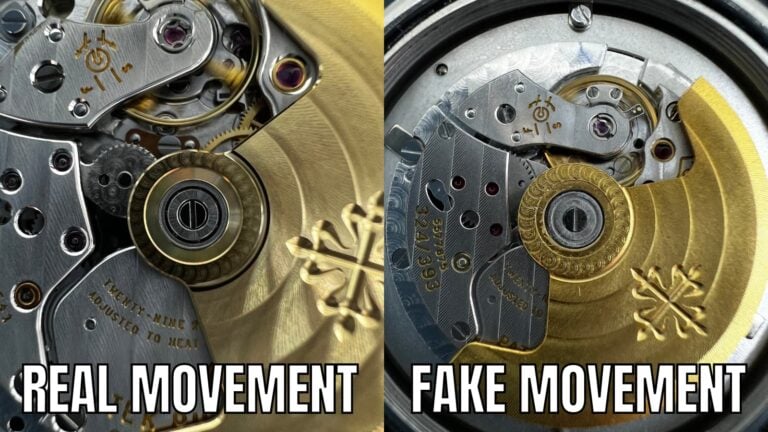 If You Can, Check The Movement
If the Patek watch has a display caseback, it's easy to look at the movement to check authenticity. However, this is trickier when the watch has a solid caseback, and we would not recommend taking off the caseback if you have no experience doing so.
Patek Philippe takes great pride in the construction, production, and decoration of its calibers. The movements are immaculately hand-finished and decorated.
• Therefore, when you inspect the movement, look closely at the details and check for any flaws, sloppy edges, crooked decorations, or poor engraving.
• Also, check the PATEK PHILIPPE engraving on the interior of the caseback. It should be sharp, perfectly proportional, and flawlessly spaced. Fake versions often have poor-quality engravings that "bleed" around the edges, making them look blurry.
• Older movements will have the Geneva Seal while newer versions will be embossed with the Patek Philippe Seal. Patek began rolling out its exclusive PP seal on mechanical movement in Spring 2009.
• Another top tip to keep in mind is that Patek Philippe does not use blue screws in its movements. You've just spotted a fake if you see any blue screws in a so-called Patek movement.
Always Buy From A Reputable Source
The best way to protect yourself from being duped by a fake Patek is to buy only from a reputable seller, whether buying new from an authorized retailer or pre-owned from a trustworthy dealer.
If you're buying a pre-owned Patek Philippe watch, look for dealers that have plenty of experience in buying and selling pre-owned Patek watches. They will have done the homework for you to check the authenticity of the watch. Reputable dealers will have in-house watchmakers that can meticulously inspect any timepiece to ensure it is genuine.
Precision Watches is proud to have a collection of pre-owned Patek Philippe watches in stock, all fully inspected and guaranteed as 100% authentic. Alternatively, if you're looking to sell a pre-owned Patek Philippe, contact us and we'll be happy to send you a free quote to buy your watch. 
Willow Grove, PA
Horsham, PA
Lansdale, PA
East Norriton, PA
Croydon, PA
Norristown, PA
Cinnaminson, NJ
Ardmore, PA
Pennsauken, NJ
Philadelphia, PA
West Norriton, PA
Burlington, NJ
Bristol, PA
Willingboro, NJ
King of Prussia, PA
Maple Shade, NJ