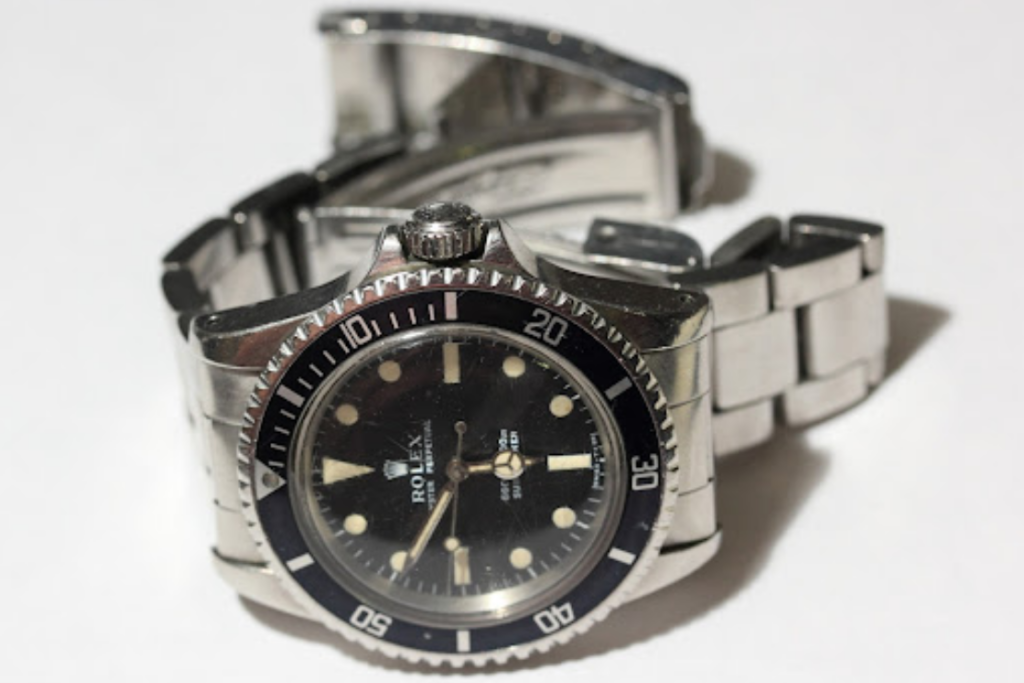 Stainless steel is the most popular choice as a material for watches because of its durability and resistance to corrosion.
But many premier watchmakers prefer to alter the composition of metals to create a material that offers superior performance. These alloys put watchmakers ahead of the competition and make their brand stand out.
Rolex has taken the lead in this regard as it has created numerous in-house metals. For rose gold, they use a different alloy called Everose, where platinum replaces the silver in the mix. There is also Rolesor, which is half gold, half steel, a composite that first appeared way back in 1933.
No surprise then that when it came to stainless steel, Rolex brought innovation into the mix yet again and created Oystersteel.
What Is Rolex Oystersteel?
Unlike Everose and Rolesor, Rolex did not invent this unique stainless steel alloy.
Oystersteel is an established stainless steel alloy called 904L. It is unusual in watch manufacturing and more commonly seen in the aerospace and nautical industries.
Omega had already experimented with 904L stainless steel in 1971-72, taking their inspiration from the French deep-sea diving company, Comex. The latter had used this steel for their diving bells.
Rolex saw an opportunity in the making and produced an exclusive and now rare timepiece for this company in the late 1970s, the Comex Sea-Dweller.
Does Rolex Use 904L Steel?
Rolex began using 904L in the 1980s, recognizing it as a different and superior alloy to 316L, which is the industry standard for most wristwatches. However, they only used the material for their line of diving watches, the Rolex Sea-Dweller. Later on, they also used 904L for the Submariner collection.
It became apparent to Rolex that while 316L stainless steel is corrosion-resistant, saltwater can still permeate the case back and watchbands, eventually leading to rusting and deterioration.
In 2003, Rolex moved all of their stainless-steel watches to 904L, but its branding of Oystersteel didn't appear until 2018.
Launched at Baselworld, an international trade show for the watch trade and gem industry, the metal was more prominent the following year when Rolex launched a new version of the Oyster Perpetual Datejust, which spectacularly combined Oystersteel with 18-carat white gold.
Is Oystersteel Produced In-house?
Rolex produces Oystersteel in-house at their foundry in Geneva.
904L is more complicated to shape than 316L, and Rolex had to replace much of their specialized cutting machinery to work with this new material. Perhaps this is why other premium watchmakers have not made a move to this tougher steel.
As noted, 904L is not a material unique to Rolex. However, by producing the alloy in-house, instead of outsourcing its production, they can control the quality.
Rolex is undoubtedly the industry leader in using 904L for watchmaking purposes.
Is Oystersteel Scratch Resistant?
Oystersteel is scratch-resistant, plus it has several anti-corrosive properties that protect it from moisture, not just out in the field but also from the skin of the wearer. In this regard, it is right up there on a level with precious metals.
The visual impact of metals used by watchmakers is crucially important, second only to their performance.
A brand like Rolex is firmly about looks, and Oystersteel retains an exceptional sheen that doesn't dull over time. The watchmaker has ensured that the watch on your wrist will retain that 'shop window' glow and always display that iconic Rolex quality.
Is Oystersteel the Same as Stainless Steel?
904L is a type of premium stainless steel described as high alloy and low carbon. It differs from regular stainless steel as it contains extras of molybdenum, nickel, chromium, and copper.
What marks 904L out compared to standard stainless steel is its excellent corrosion properties, which puts it in a league of its own, comparable with precious metals.
Rolex noticed this when it began using 904L in the 1980s. Its superior anti-corrosion properties protect a watch against premature wear on specific components caused by saltwater and the ingress of other minerals. Even just moisture of the wearer's wrist can impact over several years.
Conclusion
Rolex never stops in its pursuit of excellence. Utilizing some of the most superior materials on the planet is part of its commitment to producing the world's best timepieces.
By combining Oystersteel with precious metals, Rolex has created an unbeatable combination both in terms of performance and design aesthetic. The Rolex mantra is 'perpetual,' and Oystersteel offers resistance to both corrosions and tarnishes that offer perpetual quality. The performance of Oystersteel is incomparable, and the patented name just reinforces that unique Rolex exclusivity.
For one of the finest selections of pre-owned and vintage Rolex watches in North America, shop Precision Watches.